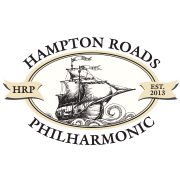 Welcome to the Hampton Roads Philharmonic's 2017-2018 concert season under the baton of Music Director Steven Brindle.  The HRP showcases the rich musical talent of the community in five exciting concerts throughout the season: October, December, March, and May.  A diverse and rapidly growing orchestra, the HRP includes active and retired military, music teachers, students, senior citizens, and youth.  Welcoming familiar and new composers alike, the orchestra actively commissions new works each season.
YOUNG ARTIST SHOWCASE PERFORMANCE 
MARCH 11, 2018 | 2:30 pm | THE AMERICAN THEATRE
Mendelssohn's concert overture, The Hebrides, opens the program.  Inspired by the composer's trip to Fingal's Cave off the coast of Scotland, this works' themes depict loneliness, solitude, and the power of the sea.   Next, the winner of the orchestra's 2nd Annual Young Artist Competition will be featured.  Held each fall, young soloists from the area compete in this competition for the opportunity to perform a concerto of their choice with the orchestra.  Finishing the concert, the orchestra will perform Haydn's festive "London" Symphony No. 104.
Tickets available here.
RSVP on Facebook and let us know you're coming!
Email info@hrphil.org or call 757-726-7369 for more information on HRP events.
---
The mission of the Hampton Roads Philharmonic is to inspire, enrich, and connect our community with classical music performed by local musicians.