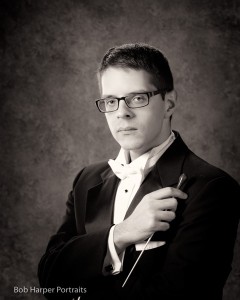 Steven is a conductor, cellist, and music educator who works with musicians of all ages and backgrounds. Steven studied at Christopher Newport University, earning his degree in Music Education, and has attended conducting workshops at the College-Conservatory of Music at the University of Cincinnati and at the Peabody Conservatory.
Since 2013, Steven has served as the founding Music Director for the Hampton Roads Philharmonic and as conductor for Bay Youth Concert Orchestra since 2016. Throughout his career, he has also served as the Music Director for Tidewater Opera Initiative, conductor for Symphonicity's productions of The Nutcracker, and conductor for Capitol Opera Richmond.
As a proponent of new music, Steven regularly commissions works and collaborates with composers. In 2010, he conducted the world premiere of David and Glass, an opera by Chris Lamb. Since then, he has conducted and performed in the premiere of over a dozen new works, including the 2016 concert premiere of The Snow Maiden of Appalachia by Andrew H. Austin.
Steven lives in Norfolk, Virginia, and teaches with The Academy of Music and Ghent Montessori School. He is a member of the National Association for Music Education, Omicron Delta Kappa, Pi Kappa Lambda, Alpha Chi, and Phi Mu Alpha Sinfonia.
Gene Chieffo was named as Executive Director of the Hampton Roads Philharmonic in June 2021. As Executive Director, Gene assists with fundraising activities and media outreach in Hampton Roads. He serves as the organization's financial manager in collaboration with our treasurer and maintains our administrative office.
Gene studied clarinet performance at the Philadelphia University of the Arts. He also holds master's degrees in education and the humanities from Arcadia University. After a 20-year career as a clarinetist in Army Bands, including six years at Fort Monroe, Gene served as the Senior Army Instructor for two different Junior Reserve Officer Training Corps programs in the Philadelphia area for 15 years. In addition to his teaching, he maintained a busy performing calendar with various Philadelphia-area community orchestras and other professional large ensemble and chamber music work.
Mr. Chieffo and his wife happily returned to Hampton Roads in 2019. Since then, he has become active with several local musical organizations as a clarinetist, board member, and administrative staff member. Gene is an adjunct Woodwind literature and pedagogy professor at Christopher Newport University. He and his wife Michel live in the Little England neighborhood of Hampton. Together, they have six children, two grandchildren, and two munchkin cats.
Dr. Chelsey Hamm was elected as chair of the Board of Directors in 2022.  As Board Chair, Dr. Hamm presides over our meetings and works with Gene Chieffo to coordinate activities of the orchestra.
Dr. Hamm received her Ph.D. in Music Theory from Indiana University, where she completed her dissertation titled "Charles Ives and Democracy: Association, Borrowing, and Treatment of Dissonance in His Music" in 2016. Dr. Hamm also holds a M.M. in Music Theory and Composition from Florida State University and B.M.s in Music Education, Horn Performance, and Music Theory from Ithaca College.
At Christopher Newport University, Dr. Hamm teaches music theory, aural skills, 20th-and 21st-century analytical techniques, and counterpoint. Previously she taught at Missouri Western State University and Kenyon College.
Executive Board
Chair – Dr. Chelsey Hamm
Vice-Chair – Mike Marshall
Secretary – Kerry Moffit
Treasurer – Stephen Wood
Directors
Traci Bluhm
Keri Houser
Shea Matthews
Lynn Sebacher
Walter T. Tillman Jr., Ph.D.
Social Media & Development – Emmet Aylor
Music Director & Conductor – Steven Brindle
Executive Director & Orchestra Manager – Gene Chieffo