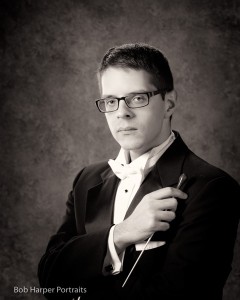 Steven is a conductor, cellist, and music educator who works with musicians of all ages and backgrounds. Steven studied at Christopher Newport University, earning his degree in Music Education, and has attended conducting workshops at the College-Conservatory of Music at the University of Cincinnati and at the Peabody Conservatory.
Since 2013, Steven has served as the founding Music Director for the Hampton Roads Philharmonic and as conductor for Bay Youth Concert Orchestra since 2016. Throughout his career, he has also served as the Music Director for Tidewater Opera Initiative, conductor for Symphonicity's productions of The Nutcracker, and conductor for Capitol Opera Richmond.
As a proponent of new music, Steven regularly commissions works and collaborates with composers. In 2010, he conducted the world premiere of David and Glass, an opera by Chris Lamb. Since then, he has conducted and performed in the premiere of over a dozen new works, including the 2016 concert premiere of The Snow Maiden of Appalachia by Andrew H. Austin.
Steven lives in Norfolk, Virginia, and teaches with The Academy of Music and Ghent Montessori School. He is a member of the National Association for Music Education, Omicron Delta Kappa, Pi Kappa Lambda, Alpha Chi, and Phi Mu Alpha Sinfonia.
Executive Board
Chair – Dr. Chelsey Hamm
Vice-Chair – Mike Marshall
Secretary – Kerry Moffit
Treasurer – Stephen Wood
Directors
Traci Bluhm
Keri Houser
Shea Matthews
Lynn Sebacher
Music Director & Conductor – Steven Brindle
Executive Director & Orchestra Manager – Gene Chieffo