The HRP showcases the rich musical talent of the community in four exciting programs throughout the season: October, December, March, and May. A diverse orchestra, the HRP includes active and retired military, music teachers, students, senior citizens, and youth. Welcoming familiar and new composers alike, the orchestra actively commissions new works each season.
In 2013, talented professional and amateur musicians in the community – active and retired military, teachers and students, senior citizens and youth, former concertmasters, and community members – signed on to the dream of creating a new orchestra to the Hampton Roads area. That summer, the Hampton Roads Philharmonic (HRP) was born.
The HRP is led by Music Director Steven Brindle, a young conductor and graduate of Christopher Newport University, who has been recognized by the press as exciting local talent. Articles on the HRP under the baton of Brindle have been featured in the Daily Press, Gloucester, and Virginia Gazette newspapers as well as Diversions, Coastal Virginia, and CNU Alumni magazines.
Since then, the HRP has presented over twenty-five performances at the American Theatre in Phoebus and the Ft. Monroe Theater. In recent years, a highlight has been the HRP's Young Artist Competition, with the winner performing in the March concert.
The HRP regularly provides chamber ensembles to local events and organizations and continues to garner enthusiastic public acclaim. Welcoming familiar and new composers alike, the orchestra strives to commission new works each season. At least eight new compositions have been premiered over six seasons.
I would strongly suggest that everyone support this new group. They will surely develop into an artistic force to be reckoned with. Kudos to them and their conductor.
Executive Board
Chair – Mike Marshall
Vice Chair – Paul Tiller
Treasurer – Stephen Wood
Secretary – Melanie Mitchell
Executive Director – Charles Leasure
Music Director – Steven Brindle
Directors
Carroll Glasco

Keri Houser

Lindsay Van Osteen

Dr. Chelsey Hamm

Kerry Moffit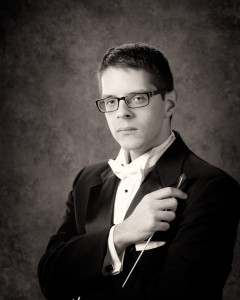 Steven studied at Christopher Newport University, earning his Bachelor's Degree in Music Education with Latin honors. During his graduate studies, he served as assistant conductor to the University Orchestra and OperaCNU.
Since then, he has attended conducting workshops at the College-Conservatory of Music at the University of Cincinnati and the Peabody Conservatory of The John Hopkins University, studying with famed conductors Mark Gibson, Gustav Meier, and Markand Thakar.
Recently, he has served as the Music Director for Tidewater Opera Initiative season five summer production and as conductor for the concert premiere of Andrew H. Austin's "The Snow Maiden of Appalachia." In past seasons, he has conducted Capitol Opera Richmond in performances including Gilbert & Sullivan's classic H.M.S. Pinafore, Mozart's Der Schauspieldirektor, The Stoned Guest, by P.D.Q. Bach, and Aaron Copland's The Tender Land.
As a proponent of new music, Mr. Brindle regularly commissions works and collaborates with composers. In 2010, he conducted the world premiere of David and Glass, an original opera in three acts by contemporary composer Chris Lamb and since then, he has conducted and performed in the premiere of over a dozen new works.
Steven currently also serves as the conductor of the Bay Youth Concert Orchestra and teaches private cello through The Academy of Music. He is a member of the Collegiate Music Educator's National Conference, Omicron Delta Kappa, Pi Kappa Lambda, Alpha Chi, and Phi Mu Alpha Sinfonia.